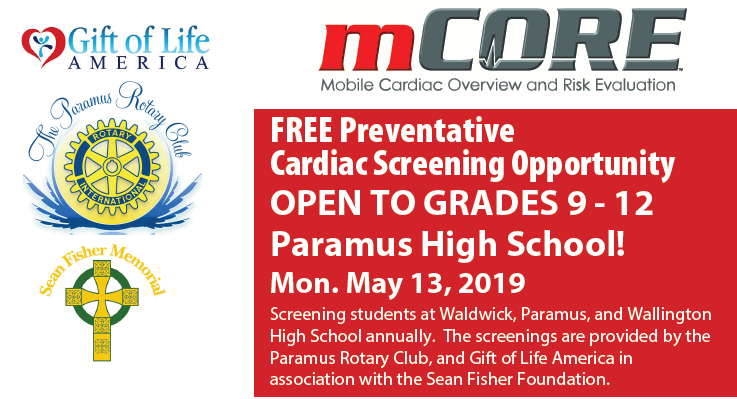 FREE Preventative Cardiac Screening Opportunity
OPEN TO GRADES 9 – 12
Paramus High School!
Mon. May 13, 2019
Screening students at Waldwick, Paramus, and Wallington High School annually. The screenings are provided by the Paramus Rotary Club, and Gift of Life America in association with the Sean Fisher Foundation.
PREVENTATIVE HEART SCREENINGS
The American Heart Association says 1 in 100 kids has an abnormality they do not know about. mCORE partners with over 200 schools, hospitals and organizations to give convenient and dependable heart screenings to students. mCORE will be offering both EKG and Echo tests for each student. All screenings are preformed by Registered Diagnostic Cardiac Sonographers and results are read by the mCORE Medical Director. This is a great opportunity to have these screenings done in a convenient manner. Providing families with a baseline for their child that can be given to their medical provider.
Learn more about mCORE and Preventative Heart Screenings at  www.mcoreathletes.com
Paramus High School Heart Screening
mCORE will be in the Small Gym
Time: 8am-4pm
When: Mon. May 13, 2019
Cost: FREE
To schedule your child's screening please click this link:
https://mcoreathletes.com/scheduler_schedule/?school=286
or visit
www.mcoreathletes.com
For questions or assistance with registration, please call mCORE: 1-866-382-2319.
Or contact Principal Raymond Kiem's office or the Main Office for further details.
For a printable brochure, click here.